On November 18 the International Student Chaplaincy, Initiatives of Change, and Haastu organize the Interfaith Conference 2017.
Interfaith Conference 2017: Crossing Borders, Building Bridges 
In these times of polarisation there are borders and bridges of all kinds. How do we experience cultural, religious, socio-political and gender-based borders? What can we do to bridge the divides, academically and in our personal lives? The Interfaith Conference 2017 invites you to an open-minded interaction with people who find inspiration from a diverse spectrum of sources. From 10 am till 5 pm the conference offers a diverse program including a multi-religious opening, keynote speech, dialogue tables, a 'human library' (meeting people with stories of inspiration), musical intermezzi and time for interaction. The keynote speaker this year is Professor Farid Esack from South Africa. He is Muslim scholar, writer, and political activist.
Keynote speaker: Farid Esack
Professor Farid Esack is a South African Muslim Theologian who cut his teeth in the South African struggle for liberation. He studied in Pakistan,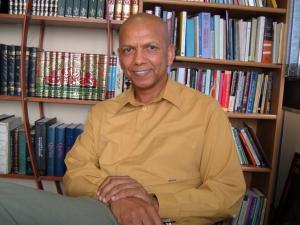 the UK and Germany and is the author of a number of books on Islam and Islam, Gender Justice, Liberation Theology, Religion & AIDS and Qur'anic Hermeneutics. Professor Esack served as a Commissioner for Gender Equality South African and has taught at a number of universities across the globe including Hamburg, Columbia, and Harvard. He has been been an activist in the struggle against Apartheid since his childhood and has also worked in the fields of gender and AIDS activism. One of the leading intellectuals in the world of Islamic Studies, he currently at the University of Johannesburg where he is Professor in the Study of Islam and Head of the Department of Religious Studies. Farid Esack is also the President of the International Qur'anic Studies Association and Chairperson of Boycott Divestment and Sanctions (BDS) South Africa.
Registration and contribution
You can register for this event by filling out the online registration form.
The Interfaith Conference asks a €5 contribution for students and a €10 contribution for those who earn a salary. This can be paid upon arrival on the day of the conference. Travel expenses (train second class within the Netherlands) will be refunded.
Practical details
Date: Saturday November 18, 2017
Time: 10 am – 5 pm
Location: Institute of Social Studies, Kortenaerkade 12, The Hague
Reserveren
Online reserveren is niet mogelijk voor dit evenement.